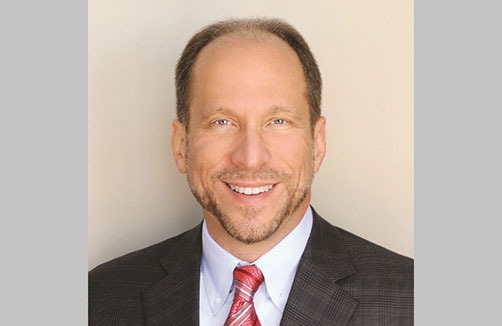 Ron Ladell has been selected to serve as chair of the Rutgers Center for Real Estate, Rutgers Business School announced Thursday.
Ladell, who has overseen all of the residential and mixed-use development activities throughout New Jersey for the last 20 years for AvalonBay Communities, also teaches real estate law and real estate development at the center. He has served on the center's Executive Committee since the inception of the center in 2014 — and he is a Rutgers University senator, representing the Rutgers University Alumni Association.
Ladell will succeed co-Chairs Carl Goldberg and Jimmy Hanson, who have served in that role since its founding.
Morris Davis, the Paul V. Profeta Chair of Real Estate and the academic director of the center, said Ladell is a perfect fit for the role.
"From the time that the Rutgers Center for Real Estate was established, Ron Ladell has been an integral part of the mission of the center and successfully engaged in all aspects of the center's activities, including academics, research, fundraising and student outcomes," he said. "As a result, I am pleased to announce that Ron has accepted my invitation to become the next chair of the Rutgers Center for Real Estate."
Ladell, who received his J.D. from Rutgers-Newark School of Law and his undergraduate degree from Rutgers College, said he is eager to take on the role.
"I look forward to continuing and expanding the activities of the Rutgers Center for Real Estate throughout New Jersey, and look forward to working with anyone that is interested in assisting our incredibly talented and diverse student body achieving their goals and objectives," he said. "Rutgers University set me on a path many decades ago that has provided me with the intellectual skills and personal attributes to be successful, first as an attorney and now as a real estate executive.
"Now that I have the opportunity to pay it forward and work with the next generation of real estate executives, I feel honored to give back to my alma mater in such a material and profound way."
Davis recognized Goldberg and Hanson for their efforts.
"As the founding co-chairs of the Executive Committee, Carl and Jimmy have been extremely important to the development and growth of the Rutgers Center for Real Estate," he said. "They have worked with me from the first day to provide a strategy for excellence that centered on student outcomes and academic impact.
"I consider Carl and Jimmy as friends and mentors, and I am grateful for their guidance and tireless efforts. They care deeply about our state, and I expect they will both continue to help the Center for Real Estate impact the lives and livelihoods of generations of students to follow."
Ladell was recently honored with the Visionary in Partnership Award from Rutgers Hillel, which was bestowed to him for his strong moral character, compassion and devotion to his students and community.  Ladell also recently received the Dean's Meritorious Award for Adjunct Faculty from the Rutgers Business School.
He's best known in the real estate world for his efforts as a senior vice president at AvalonBay, which has been one of the most prolific residential developers during Ladell's tenure. AvalonBay currently is constructing communities in Somerville, Princeton, Montville and West Windsor.
Ladell also serves on the New Jersey Chamber of Commerce board of directors, the New Jersey Apartment Association board of directors, appears regularly as a guest lecturer at academic institutions and trade conferences and has been recognized for his volunteer activities by various organizations.